DrawPad Graphic Editor
is the newest product from NCH Software and adds another fantastic product to a great lineup of Graphic Software and Tools. This software is ideal for creating images, paintings, and drawings.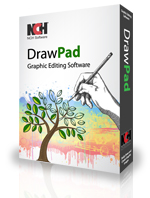 DrawPad
is an easy-to-use image composition and manipulation program. We created it to function as an alternative to some of the top drawing/painting/image creation tools on the market. If you want something with more features than traditional paint programs, but don't have the expertise (or budget) to use a premium illustrator product, this is the perfect software for you. It is an essential tool for many different graphic design projects such as banner ads, icons, logos, invites, diagrams, paintings, sketches, and many more.
DrawPad
features a wide variety of tools including
Pencils and brushes for sketching, drawing, or painting.
Tablet and touchpad sensitivity
Raster and vector images
Custom effects and textures.
Object/shape insertions.
Compatability with standard fonts.
Image manipulations (cropping, resizing, flipping, etc.)
Ability to save in a wide variety of formats.
If you are looking for a great free tool that any artist or designer can enjoy, try
DrawPad Graphic Editor
. If you have already had the chance to try
DrawPad
, let us know what you think. You can leave us feedback or suggestions for future features and take part in improving a product you already enjoy.